The previous two tenants — Jason Copping and Tyler Shandro — were defeated in the May 29 election
Article content
What sane politician would want to be Alberta's new health minister?
Article content
Adriane Lagrange, that's who. The former education minister's name was leaker two hours before cabinet was scheduled to be announced Friday.
Article content
The previous two tenants — Jason Copping and Tyler Shandro before him — were defeated in the May 29 election.
Shandro lost a squeaker. Copping was clobbered in Calgary-Varsity by more than 4,000 votes.
Copping was a good minister and a bright light in the UCP government. Doesn't matter. Health is the route to early retirement.
Provincial political parties made radically different claims about health care during the election campaign, with the UCP insisting the crisis is over, and the NDP saying it isn't.
One crisis must be solved quickly, but the UCP so far seems incapable of fixing it.
Delays are absurd for booking community lab test appointments in Calgary.
The problem has been building since last December, when the UCP switched Calgary testing from Alberta Precision Laboratories to DynaLIFE Medical Labs.
It was a straight flip from a publicly run service to a private one, with grand promises of "better access."
This has been a spectacular flop from the start.
Article content
On Thursday, the DynaLIFE booking site showed no Calgary appointments available anywhere in the city before July 6.
Some clinics were booking for July 13 and 14. Not one location had an appointment available in June.
AHS vows to reduce long lab wait times as private company scrutinized

'No Albertan will ever have to pay': Smith promises UCP health guarantee

Notley and Smith offer competing health care promises
The comparison with Edmonton is shocking.
DynaLIFE showed appointments available on the same day in five Edmonton clinics.
Yes, in the capital a person could book Thursday and get tested Thursday.
All Edmonton clinics showed appointments available this month, none later than June 21.
Calgarians who finally get bookings complain that they often face waits of an hour or more after their assigned time.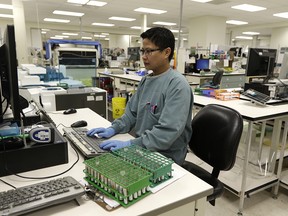 Edmonton is better served because DynaLIFE has done community testing there for 25 years. Now, the company's reach has been extended by contract to the entire province.
The shift from regional to provincial, and public to private, is not going well. The growing pains are inflicted on Calgarians who need their tests done quickly.
Article content
Calgary-Varsity voters might have remembered what Copping promised last Dec. 6, when he announced that the Calgary transition was in effect.
"Contracting community lab services to DynaLIFE will give Albertans better access to high-quality community lab services, while generating cost savings that will be reinvested into other health services."
In January 2022, when the contract was signed, Copping also said: "Partnering with DynaLIFE is an innovative solution that will build upon the success of Alberta's provincially integrated lab system, which has proven to be one of the best of its kind in North America and is critical to providing high quality patient diagnoses and treatment across the health care spectrum."
He was talking about Alberta Precision Laboratories, created by the NDP, which absorbed Calgary Laboratory Services.
There was controversy over that — CLS had become very good at the job — but Copping himself acknowledged the excellence of the previous testing system.
That was no deterrent, however, to turning the system on its head because private must by definition be better than public.
Article content
Sometime private options work very well. Alberta health care is loaded with them, from doctors' offices to imaging facilities and some surgery facilities.
But if a publicly funded health service is going to be privately run, it has to work. So far, this doesn't.
On April 20 — 11 days before the election campaign began — the government promised solutions. It said new staff members were being recruited and clinics added. Ironically, help was coming both from AHS and Alberta Precision Laboratories (which still operates hospital testing facilities).
Nearly seven weeks after that pledge, there's still no sign of improvement. The wait times in Calgary are just as long, the gap with Edmonton service as acute as ever.
This is a big problem. For the new health minister, however, it's not even a major one. More serious still are emergency ward waits, staff shortages, surgery waits and lack of staff.
LarGrange needs to sort all this out, and  maybe plan for early retirement.
Don Braid's column appears regularly in the Herald.
Twitter: @DonBraid